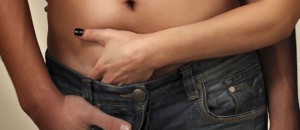 So you've been surfing around the usual free sites, trying desperately to find porn that doesn't automatically assume you're a man. You're sick of the sexism, the racism, the bad production values, the atrocious spelling! You want something that speaks to you as a female, that reflects your experiences and desires.
You want porn for women, right?
The term "porn for women" is pretty nebulous and some people assume it only means softcore, candlelit romance. But it doesn't have to be that. It can be any erotic content that acknowledges women as an audience. When you consider that the vast majority of porn is targeted at men – be they straight or gay – then looking for "porn for women" is a perfectly reasonable thing to do. It means you're looking for something different, something other than the standard type of porn.
Thankfully there's a growing number of websites and films that seek to cater to a female audience. This includes everything from more traditional erotica for women or "couples" porn to new wave feminist porn to queer smut and seriously kinky hardcore. The main point is, this new style of sexy entertainment understands that women like porn too. It's taken mainstream porn far too long to work that out.
A great place to start looking is right here. Yep, Porn for Women TV features a large selection of videos from various erotic filmmakers so you can get a feel for what's out there.
Sites
If you identify as straight or are looking for heterosexual content, there are a number of good sites that cater to straight women.
For The Girls, founded in 2003, offers a selection of hetero couples porn and naked men (either posing or masturbating), along with a magazine-style archive of erotic fiction and articles.
Similarly, Sssh.com offers a variety of straight porn from a more sensual perspective. Both sites are unashamedly "for women" and offer what could now be considered "traditional" erotica for women.
Feminist porn site Bright Desire goes beyond the limitations and labels that often accompany the idea of "porn for women". Alongside the hugely popular videos of real-life couples having sex, you'll find arty short films, fantasy masturbation scenes and queer and gay content, although it's not a major part of the site. Bright Desire maintains that your fantasies don't define you and invites women to explore a smarter and more positive vision of sex.
Cinema Joy by British director Petra Joy has all of her "female perspective" films plus selected movies from other female directors.
If you're after more glamorous straight sex – what a lot of people call "couples porn" – then you'll be pleased to know that the mainstream porn industry has started to sit up and take notice. A swathe of new erotic sites offer hardcore hetero scenes which have high production values, good-looking performers and a willingness to cater to potential female customers (even if they assume you're only there to please your husband). So if you want pretty couples porn, you might want to visit Joymii, Babes.com or Erotica X. The camera still tends to focus on the women and cut the guy's head off sometimes but it's all very nice to look at.
British erotic film company Joybear also has great couples porn. It also seeks to cater to both women and men and it's films have a focus on authenticity and interesting storylines. If you like your porn with a bit of a British accent, this will make you happy.
Lust Cinema is a membership site that allows you to watch a huge variety of female-friendly feature films, with new titles added regularly. It's a creation of Spanish feminist director Erika Lust, and features all her films plus the work of famous directors like Tristan Taormino, Maria Beatty, Jennifer Lyon Bell and others. It's a great way to enjoy a huge collection of female-friendly movies at once. Alternatively, you can check out her site XConfessions, which features films made of fan's fantasies, by Erika and other guest directors.
FrolicMe launched in 2014. It's an upmarket site featuring well-made erotic films aimed at women and couples.
For some, "porn for women" means the pleasure of admiring the male form. Often, women have relied on watching gay porn to get their fill of eye candy but there's a few places that do seek to cater to the female gaze. The aforementioned For The Girls is one site and Bright Desire has a lot of solo male videos. There's also Gentleman Handling, an arty, indie site that focuses on male masturbation. There's Heavenly Spire which is a more diverse celebration of masculinity. Or The Full English, celebrating British manhood.
If you identify as lesbian or queer or your tastes run to queer content, there are a growing number of sites that cater to you. One of the best known queer sites is Crash Pad Series, created by award-winning director Shine Louise Houston. The idea behind this site is that there's a secret apartment – the Crash Pad – where queer lovers meet for wild sex. This site started out with an "authentic lesbian" theme but it's expanded to include a wide range of orientations and genders.
Shine also runs the feminist/queer video-on-demand site Pink Label TV. This site lets you download individual films from well-known and emerging feminist directors. The selections run from straight to queer, vanilla to very kinky and everything in between.
You may also want to visit the sites of queer feminist porn creator and performer Courtney Trouble. Her first site Indie Porn Revolution (previously NoFauxxx) was the first adult site to use the term "queer porn". It features a lot of non-traditional sexualities and identities – queer, butch, femme, trans, people of color, non-normative sexualities and bodies are all featured.
There are a number of other queer, female-focused sites out there including Good Dyke Porn.
If your tastes run to kink or BDSM, there are a number of female-friendly and ethical sites that may appeal. Fans of spanking will enjoy Pandora Blake's amazing Dreams of Spanking, which features a variety of scenarios, all produced with a strong feminist ethos. Or you might want to check out long-time BDSM mistress Julie Simone's amazing site (not for the faint hearted).
 * If you're after some free porn, check out the videos right here on this site! Lots of freebies and trailers of quality erotic short films and great porn *
Movie Directors
Feature films are still a great way to enjoy porn and there's a wide selection of good quality porn for women titles out there, usually created by female directors.
Pioneer director Candida Royalle paved the way for all others with her groundbreaking Femme line of films, first produced in 1984. Candida made 17 titles in all and they're all still selling well.
British filmmaker Petra Joy has created her own brand of porn for women with a selection of films based on straight female fantasies. With titles like Sexual Sushi and Feeling It!, Petra has explored a wide variety of sexual scenarios, all of which feature a strong focus on female pleasure and desire.
Spanish director Erika Lust (previously mentioned) has won several awards for her well-made films, all of which have a strong focus on story and the female perspective.
Britain's first female porn director Anna Span made waves with her large collection of hardcore, gonzo-style porn movies, often set in gritty British locations. These films cater to women who enjoy the porny aesthetic and come laden with a great sense of humour.
US director Tristan Taormino joined forces with several mainstream porn companies to create her own unique gonzo and educational films. These high-end movies broke a lot of porn valley rules while still appealing to a large audience.
French filmmaker Ovidie has said she wasn't making porn for women but her couples films have a huge appeal. They feature intriguing plotlines and great, intense sex.
Jennifer Lyon Bell is US born but Netherlands-based. She makes high-end, story-driven erotic films that gather acclaim wherever they're shown. There's a realism to the sex and the scenes are backed up by seriously engaging plotlines and interesting characters.
British director and performer Vex makes artistic, unusual erotic films at her site Four Chambers.
Feminist BDSM performer and director Madison Young has successfully combined a porn career with art, creating films that challenge boundaries and show authentic female sexual experience within the context of power play.
Working within the mainstream industry, director Jacky St. James has established herself as a top quality filmmaker who creates great stories. Her films are more "couples" based but they are admired by many women.
Before retiring, documentary maker Tony Comstock created a series of films celebrating the sex lives and relationships of real-life couples.
You can find a more comprehensive list of feminist porn directors here.
Other places to find good porn for women
Feminist Porn org – A new site looking at feminist porn sites
Porn Movies For Women – An older site, lists over 500 adult movie titles
* A note about the term "women"
This site is using the word "women" to include those who identify as women, whether cisgender or trans. In fact, the use of "porn for women" on this site is a way of identifying any kind of non-traditional or alternative porn and that includes trans porn. This site may well also appeal to straight or gay men and they are of course welcome to explore and enjoy what's on offer here. In essence, I owned this domain name, I know lots of people search for "porn for women" online and this is my way of getting the word out there about all the different and diverse, primarily female-focused porn that is available.