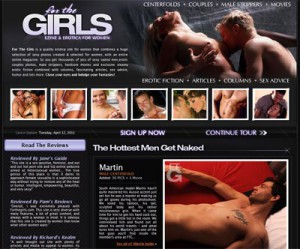 You may have seen the headlines in the mainstream media occasionally: "Porn's new customers – women!" It seems that some people are still shocked that women enjoy porn, even though it's been over a decade since the Nielsen Netratings 2003 survey found that one third of all porn consumers were female.
"Porn for women" as an idea has been around for a while. Playgirl magazine was first launched in 1974, offering nude male pictorials to a female audience. In 1984, director Candida Royalle released her first adult film aimed at women and couples, Femme. Initially Candida had trouble getting funding for her movie as porn executives insisted that women wouldn't buy her product. She has since released over 17 titles that continue to sell.
Her success led the way for other film directors and webmasters who set out to make adult content for straight women, especially in the last decade. These include directors Erika Lust, Petra Joy and Anna Span, and webmistresses Ms. Naughty (that's me), Ladylynx and Angie Rowntree of Sssh.com. Since 2000 there's been substantial growth in adult content labelled "porn for women".
More recently, the term "feminist porn" has appeared. Initially used in a 2003 documentary Hot and Bothered, the phrase gained real traction with Toronto adult store Good For Her's Feminist Porn Awards. The concept of a feminist porn movement was cemented in 2013 with the publication of The Feminist Porn Book and subsequent conference. The media often has a hard time wrapping it's head around the idea since feminism has popularly been associated with an anti-porn attitude. Yet a growing group of filmmakers, web developers, performers, academics and writers are happy to align themselves with the idea of porn that is feminist in nature.
So is there a difference between "porn for women" and "feminist porn"?
As is typical in any discussion of labels, it all depends on definitions – and who is doing the defining.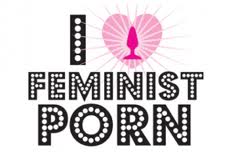 Seen from a historical perspective, "porn for women" has been used to identify adult material that sought to cater to a female audience, to depict a female perspective or to reflect female desires.  Early creators of porn for women sought to make something different from the mainstream, which typically ignored women as an audience (still does). The aim was to break away from the usual porn tropes and to depict "what women want" – whatever that was. Those who set out to do this often relied on their own ideas of what was sexy or asked friends for their opinions. What worked was a matter of guesswork.
The main reason for calling anything "porn for women" was to create a point of difference, to identify the content as trying to include women as an audience, by speaking directly to them and attempting to depict more female-focused sexual situations.
Often, the content labelled as "porn for women" showed common themes – this type of porn was heterosexual, relied on the idea of romance (since romance novels were and are still the number one source of erotic content for many straight women), attempted to feature good looking, beefcake men and tended to have higher production values. This was not always the case but that's what tended to sell. Thus, "porn for women" evolved into a genre that was more soft focus than dirty gonzo.
For many people, "porn for women" refers only to that "flowers and candles" type of content. It has become cemented in their minds as a very narrow sort of porn and subsequently a lot of women reject the label "porn for women" because they personally aren't into that type of porn. Others disagree with the term because they see it as prescriptive and restrictive; women like all sorts of porn, so you can't have just one style and say every woman will like it.
Still others took exception to the use of the word "women"; defining an audience according to a biological sex may leave out transgender people. The ongoing heterosexual focus also meant that the phrase was seen as excluding queer people.
Enter "feminist porn". This phrase has become a rather nebulous way to describe a genre of adult content, a way of making that content and a general activist movement or group of creators. The only certainty in feminist porn is that all the directors and creators identify as feminist; everything else is up for debate. Nonetheless, there's a general belief in trying to create porn that is not sexist or racist and a desire to include a more diverse range of body types, sexualities and genders than is seen in mainstream porn. There's also a belief in the ethical creation of porn that respects the performers, an idea that expresses itself through the collaborative nature of feminist porn and a push for better conditions for the performers.
Feminist porn has been primarily female-focused; the criteria for the Feminist Porn Awards is that a woman must be involved in the production of the work and that it must depict genuine female desire and agency. In 2014 this has been expanded to include "traditionally marginalized people". Acknowledgement of a female audience is inherent in their definitions: The awards site says "Overall, Feminist Porn Award winners tend to be movies that consider a potentially female or trans viewer from start to finish."
So is "feminist porn" the same thing as "porn for women"? One could argue that it is in a lot of ways. Certain feminist porn as it is today couldn't exist without the original idea and subsequent growth of porn for women in the 2000s. And both labels share a lot of the same aims, especially in the promotion of a different kind of porn, one that is critical of the tropes of mainstream porn and one that acknowledges that women have not traditionally been represented by it.
At the same time, plenty of mainstream porn studios are now offering up their version of "porn for women". It differs little from regular porn aside from brighter lighting or an attempt at a romantic storyline. Many of the sexist, male-oriented tropes of porn remain, leaving one to question whether simply giving content this label means the creators are genuinely interested in catering to women or are simply engaged in a cynical marketing exercise.
Perhaps in the end, it's the labels themselves that are the point of difference. What you call your porn has an effect on how people perceive it. "Porn for women" now has a lot of baggage and it's presumed exclusionary or prescriptive nature means it doesn't fit in with the more inclusive, nebulous concept of "feminist porn". Those who did not feel welcomed by the content they saw described as "porn for women" felt much more at home with "feminist porn".
Yet feminist porn has its detractors as well. In 2013 director Nica Noelle disavowed being a feminist or making feminist porn because she felt the movement excluded men, many of whom were also disenfranchised with mainstream porn and had embraced her alternative style of making porn. Despite the fact that those within the movement would disagree, it may be easy to assume that feminist porn is leaving men out of the game, given the continuing focus on women. One could also argue its more concerned with promoting queer or trans content, since many of the most well-known people in the movement create that style of porn (and a great many of the awards have highlighted these previously ignored genres).
So what a label means really does depend on the eye of the beholder. For some, feminist porn may be the same as porn for women; for others, it may be completely different. And it often comes down to marketing in the end. What you call your porn all depends on who you're trying to sell to.
As for Porn for Women TV… I consider it to be feminist porn. All the content on this site meets my own personal criteria for "female friendly porn": it's either made by a feminist director, it seeks to include women or trans people as an audience, it's creator specifically intended it to be for women, or it depicts female fantasies, female desires or a female perspective (whatever that may be). I know the phrase "porn for women" isn't perfect but I am still happy to use it as a way of delineating this type of adult material.